A Guest Post by Tina Monteleone
If you are like me, your morning typically starts at Dunkin Donuts.  Even though most times I just run in, this morning, due to the rain, I decided to go through the drive-thru.  It was early and the D&D staff seemed to be moving slowly, so I found myself glancing around the inside work area as I was waiting.  
For the first time, I noticed an odd looking monitor that reminded me of something I saw in a hospital.  As I looked closer, I realized that this device was tracking the performance of the D&D staff as they worked to serve the drive-thru customers.  Even though it was focused on turnaround time for orders, it was also translating the data into a performance percentage and a visual graph.  Wow! What a quick and visual way to get immediate performance feedback!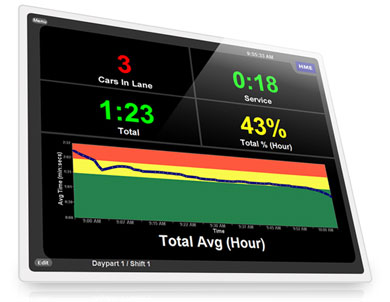 Can you imagine if we had performance feedback devices like this in education?  What if we as educators could get immediate "real time" feedback while teaching?  Imagine that while in your classroom you could glance over at the monitor and see the data on differentiation, student focused learning, lesson relevance, student engagement, etc. Just consider the incredible formative feedback power it would have on your teaching practices and imagine the amazing impact that you would have on your students as a result!
How do you get immediate performance feedback from students as they are learning? Share your strategies at #4OCF on Twitter.
Tina (@tinamonte)
Tina is a K-8 educator with a master's in education. She is duly certified along with holding certifications as a Dyslexia Reading Therapist and as a Google Educator. Tina loves to share her passion for education as an adjunct professor, an Instructional Coach, and as a professional development presenter.