Afternoons in October are not usually all that warm. Last week, we saw higher temperatures returning to the east coast, at least for a little while.
My children took advantage of the warm weather, and decided to grace our sidewalk with a sudden burst of creativity. Following their lead, I grabbed a piece of sidewalk chalk too.
As I started to sketch a skull just in time for Halloween, my daughter joined in to help me complete the skull. She started by adding lots of bright colors, but also did something I wasn't expecting. She began to add flowers to the outside of the skull. She began to explain to me what she had recently learned about Dia De Muertos, the Day of the Dead. Much of what she learned had come from a television show, but she had also done some artwork in school related to the Day of the Dead. We talked for several minutes about the significance of the day, and I learned from her several details of which I was unaware.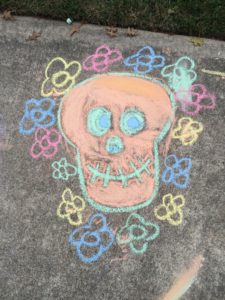 While she was excited to share what she had learned with me, I was more excited to share in the moment with her.
A simple chance to connect and create, to be present in the moment, and to share with each other.
I'm grateful that my kids decided to pick up the sidewalk chalk because
afternoons in October usually don't provide these types of moments.
So today, I wish to convey my gratitude…
for sidewalk chalk…
for bursts of creativity…
for simple connections…
and for warm afternoons in October.
Rich (@RACzyz)